Local woman hopes next step in amputation journey is into office | News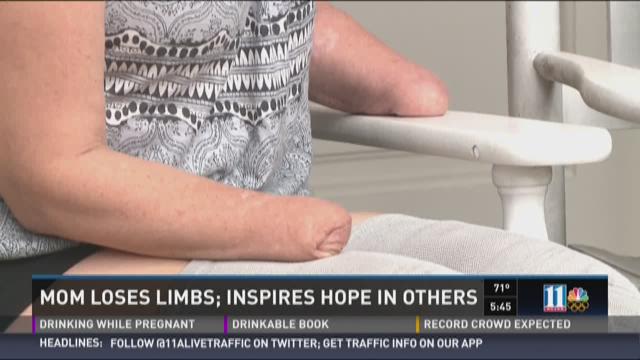 DUNWOODY, Ga. -- Cindy Martinez is the local mom who lost a hand and both legs to a flesh-eating bacteria.
Her story of hope is one of the most shared articles on 11Alive's Facebook page – and it's serving as a source of inspiration.
Yet, she's also receiving inspiration from others – including a Dunwoody woman who lost her limbs eight years ago.
11Alive's Donna Lowry tells us about Becky Springer, who is running for an at-large seat on the Dunwoody City Council.
A campaign sign, for Becky Springer, is a sign of something much deeper.
It's a sign of hope and triumph – moving forward on prosthetic legs.
"I guess you really never know what you are capable of until you are tested.
Becky's test came in 2008 when she woke up.
"Achy all over, I thought I had the flu," she said. "As the morning progressed, my fingers started tingling."
She remembers leaving for the hospital – but nothing else until she woke up.
"I basically woke up at one point and realized I had no hands and feet," she said.
To her surprise, that knowledge didn't devastate her. Becky had contracted a rare bacterial infection.
"It's like, God doesn't give you more than you can handle," she said.
In the years since, this wife and mother – a former model and corporate-type – looks to help others.
"I have visited, as far as I know, everybody who's been amputated here in Atlanta in the past eight years.
Like Aimee Copeland who lost her limbs to flesh-eating bacteria and now Cindy Martinez who is facing similar challenges.
"Show them there's life after amputation and just because you don't have any hands and feet does not mean that you're done," Springer said.
She admits to days when she's frustrated.
"I wish I could go and buy a pair of shoes or I wish I could get all dressed up and look like a normal person," she said. "Or maybe somebody had pointed at me or stared at me overly - more than normal."
But that lasts about a day.
"I use to be the person who woke up and said, 'I'm having a bad hair day and my day's going to be bad today,' she said. "Anybody else out here who's having a bad day and looks at me and says, 'Oh my gosh, I can't believe I was worried about spilling coffee on my shirt – I could have no hands and feet' and if that has an impact on one person a day, then I've done my job."